May 19, 2018
This Month we want to share beauty tips and tools and unique food uses, that will help you have a Fabulous Month!!  H...
Beauty Tips, Tools and Make up and food Uses for a Fabulous Month!
Healthy, Vibrant and Beautiful Skin is a beauty girl's, must, and what better way to have beautiful skin, than from natures finest ingredients. I recently shared a little unknown fact about me my middle name is French! The French are known for beautiful skin, and luxurious skincare, so we are sharing a few French Girl skincare products you will all love, as well as a complete assortment of beauty tools and makeup you won't have to restock next month.
During the month, of beauty, chic, galore, and minimalism, we all have our uses and make time to purchase our favorite items. The items I am sharing with you this month can be purchased online, or at your local beauty store. I purchase new makeup products and or replacement products every few months, and sometimes purchase totally new beauty items, especially since I moved to California, and my skin changed due to the in climate weather.
A clean and healthy face is the first step to sheer beauty! Having beautiful glowing and healthy skin will make your skin and makeup routine radiate. Try these natural beauty routines, to achieve the skincare goals you desire. You can achieve healthy glowing skin and correct your skin issues with this unique natural food uses.
Natural Skincare Treatments, using Yogurt from your Refridegerator
Yogurt + Honey = Acne
Yogurt + Egg = Dry Hair
Yogurt + Lemon = Black heads
Yogurt + Oatmeal + Lemon = Oily Skin
Yogurt + Honey + Banana = Wrinkles
Click the ingredient available at Amazon and Walmart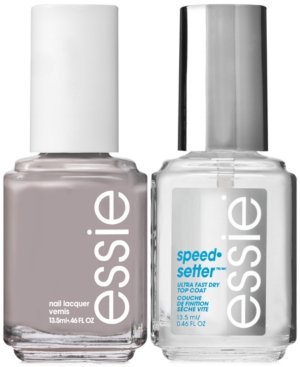 essie 2-Pc. Speed Setter Top Coat & Nail Polish Set
Maybelline Color Sensational Powder Matte Lipstick - 0.15oz